Little Nemo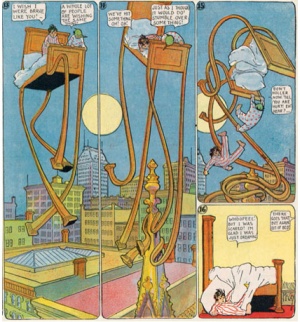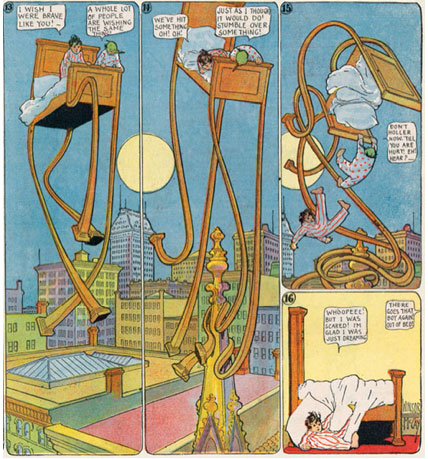 From January 2, 1910 until April 23rd, 1911, Little Nemo's adventures are taking place while he and his pals are travelling on an airship (blimp) - another inspiration for the Chums of Chance's means of transportation, their everlasting youth and a few of the Chums' adventures?
Here's some similarities found at first glance:
Right in the first episode of the airship adventures (January 2, 1910) Little Nemo and the Princess (King Morpheus' daughter) take off from Slumberland to the Northpole (ATD 9; 114) in search of Dr. Pill, whom they hope to have a remedy for King Morpheus' pain.
On February 27, 1910 they finally get close to the Pole and realize that there is no ice left on the sea just to find Dr. Pill (who is in "ice-business" by now) in some kind of a tower of Babel made out of all the arctic ice (recalling the "peak...far too regular to be the nunatak you imagine it" (ATD 139)) by his Eskimo-Workers.
On April 10, 1910, the airship, having arrived on the moon, descends into a crater to explore the inside of the moon (ATD 114ff) but the crater turns out to be the mouth of a snoring giant, who starts coughing because the blimp feels like a fly in his throat. Arriving on Mars on April 24, 1910 they find the planet's essentials, including air and words, to be owned by a Scarsdale-Vibe-type plutocrat named B Gosh.
On October 10, 1910, the airship crashes into Pikes Peak.

On April 23, 1911 (the very last episode of Little Nemo's Airship Adventures), the airship arrives in Chicago. They fly above the "...Field Museum - the one remaining building of the 1893 fair!..." (nowadays Chicago's Museum of Science and Industry Wikipedia) and we finally get a splendid vista of the stockyards (ATD 10) complete with smokestacks and such as a finale of the Airship-Adventures of Little Nemo in Slumberland.
Against the Day Alpha Guide