Campanile
The "Collapse" of St. Mark's Campanile, July 14, 1902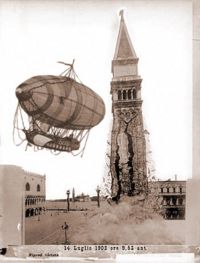 St Mark's Campanile is the bell tower of St Mark's Basilica in Venice, located in the square (piazza) of the same name.
On the morning of 14 July 1902 the Venetians woke up without their bell tower. A sudden collapse had forever destroyed one of the iconic images of the city. On the evening of the same day, the City Council gathered out of urgency and decided that the bell tower should be reconstructed "how it was and where it was."
Venice's famous brick bell tower (325 feet tall, plus the angel) had been standing nearly 1,000 years when, practically without warning, it collapsed, taking with it Jacopo Sansovino's 16th-century marble loggia at the base. The crushed loggia was promptly restored and the new tower, rebuilt to the old plan, reopened in 1912. In the 15th century, clerics found guilty of immoral behavior were suspended in wooden cages from the tower. Some were forced to subsist on bread and water for as long as a year, while others were left to starve. The stunning view from the tower on a clear day includes the Lido, the lagoon, and the mainland as far as the Alps but, strangely enough, none of the myriad canals that snake through the city.
"What stood for a thousand years," Randolph pronounced, "what neither tempest nor earthquake, nor even the catastrophic Napoleon Bonaparte could touch, we have bumblingly brought down in an instant. What shall be the next target of our ineptitude? Notre Dame? the Pyramids?"