ATD 1063-1085
Please keep these annotations SPOILER-FREE by not revealing information from later pages in the novel.



Page 1063
Rue du Départ
Street in Montparnasse, Paris. The name means "street of departing or setting out."
Piet Mondrian had a studio at No. 26. A film titled Rue du Départ starring Gérard Depardieu was released in 1986.

The street is called "rue du départ" (departure street) because it flanks the train station (Gare Montparnasse). The street opposite is called "rue de l'arrivée" (arrival street). Therefore this may also be an echo to "the melancholy of departure" and Chirico's painting of Gare Montparnasse, cf note to p.747

Page 1064
Page 1065
Reynaldo Hahn
Reynaldo Hahn (1875-1947) was a French composer best known for his vocal works, ranging from serious opera and operetta to solo songs. He was the director of the Paris Opéra since 1945.
Ciboulette
French: Chive. Also a feminine given name, from which the title of this operetta comes.
C'est pas Paris, c'est sa banlieue
French: It isn't Paris, it's a suburb of Paris.
Page 1066
"J'ai Deux Amants"
French: I have two lovers.
Sacha Guitry
Sacha Guitry (1885-1957) was a French film actor and director.

The Guitry production in question is "l'Amour masqué", first staged in 1923. André Messager wrote the music and Yvonne Printemps, Guitry's wife, sang it.
'Jour
For Bonjour. French: Hello. Literally: 'Day.
Scyuzay mwah
For Excusez-moi. French: Excuse me.
ain't you that La Jarretière?
In V. she died graphically around the time of the World War. Her stage name is French: The Garter.
succès de scandale
French, literally: success of scandal. In this case, the hype that the show needed to put customers in the seats.
Mon Dieu! . . . que les hommes sont bêtes
French: My God, how stupid men are.

a line in the aforementioned song "j'ai deux amants", it is also a line in Offenbach's operetta La Perichole.
Fossettes l'Enflammeuse
French: Dimples, the Inflamer. "Fossettes" has verbal echoes (as foreshadowing sound, so to speak) of [Bob] Fosse, much later American choreographer and director.
Jean-Raoul Oeuillade
The surname is the name of a restaurant and a wine grape. It also appears to be a French misspelling of œillade = wink, leer.
Dimples
R. Wilshire knows you can print a one-word title in bigger letters than a whole phrase.
He's also the producer of such highbrow fare as African Antics, Shanghai Scampers and Roguish Redheads.
Solange St.-Emilion
'Solange' is the name of a saint; and St. Emilion is a wine - a claret, a British term for a Bordeaux.
Casse-cou . . . n'importe quoi!
Daredevil, that's me. / This little don't-give-a-damn. / Daredevil, husband, your women, / All the other men, no matter who!
Page 1067
"It won't be a stylish marriage"
Quoting from the popular song "Daisy Bell."
Last alluded to on P.647, just before the gunfight that wasn't, with Frank and Stray in El Paso. Difficult relationships seem to bring out this ditty.
the disaster up at Caporetto
The Battle of Caporetto was fought between October 24 and November 9, 1917, on the Austro-Italian front. Austrian forces, with German support, broke through the Italian lines, killing 11,000, wounding 25,000, and taking 250,000 prisoners. In the aftermath of the battle, Austrian forces advanced on Venice, but were ultimately stopped by a newly formed defensive line.
Page 1068
Bleriot monoplanes
The Bleriot was a pioneering monoplane built of oak and poplar and surfaced with cloth. It was the first plane to cross the English Channel and to fly over the Alps.
Page 1069
Italo-Turkish War
Over control of Libya, 1911-12, important precursor of the Balkan Wars. An Italian flyer dropped history's first aerial bomb on Turkish troops. See Italo-Turkish War.
the Cambio
"The Ristorante del Cambio, known locally as 'the old lady'" (ATD, p. 1073), is a famous restaurant in Turin, in operation since 1757, where important politicians and generals have dined. It is located at 2, Piazza Carignano, Turin. (See also pages 1070 and 1073.)
I Murazzi
The name given to a stretch of riverfront arcades on the west bank of the Po in central Turin. They were originally boat-houses and landing places, but eventually developed into discos and bars and so became a center of Turin's nightlife. The name comes from the stone embankment ("walls") that were built along the Po in the nineteenth century to prevent flooding of the city center.
una picchiata
Italian: a nosedive.
Page 1070
mia bella Caproni
My beautiful Caproni. Caproni was the Italian World War I heavy bomber designed by the talented pioneer Italian aircraft designer and manufacturer Gianni Caproni (1886-1957). The model described here is likely the Caproni Ca.4, a triplane with a four-man (not five-man) crew, three Isotta-Fraschini engines (270HP each), a maximum speed of 87 mph, two forward and two rearward mounting Revelli machine guns. (note: being a 'male' word - italian has no neutral, so words are either male or female, Renzo would certainly say 'il mio bel Caproni')
Si, certo
Italian: Yes, sure.
Lucrezia Borgia
Lucrezia Borgia (1480-1519) was an Italian noblewoman, a famous figure of the Italian Renaissance. She was always casted as femme fatale in many artworks, novels and films. One of the numerous legends about her said that Lucrezia was in possession of a hollow ring that she used frequently to poison drinks.
Andiamo
Italian: Let's go.
the SVA
The SVA (Savoia Verduzio Ansaldo) World War I Italian bi-plane reconnaissance-bomber.
Macché
Italian: Naw. Macché is an Italian interjection, not slang, translated as of course not, not on your life, go on!, come off it!, depending upon context: take your pick.
Molo Antonelliana
Mole Antonelliana is a major landmark and the highest (550 ft) building of Turin, Italy. It was built in 1863 to be a Jewish synagogue. Since 2000, it houses Italy's National Cinema Museum. See photos of Mole Antonelliana.
Page 1071
picchiate . . . picchiata
The first is plural, the second its singular. Italian: nosedives, nosedive.
a Certain Word that would not quite exist for another year or two
Of course it's "Fascism." "It was all political." Politics through aerobatics instead of chemistry?
Fascism is the unity of government and industry, or big business - clearly a consistent theme in ATD.
Granted on a theme of ATD, but Fascism is, historically and conceptually, more--far worse-- than the unity of government and industry.
True. I should have said it's "a key element." Interesting reading at Wikipedia on Definitions of fascism. I tend to think we're heading that way ourselves. But then, George Orwell's comment is valid, too.
Vineland, that homage inspired by 1984 has three major, overt instances of the Government [A fictional Reagan America] pre-emptively destroying our basic civil rights. Not to mention the thrust of the whole novel, perhaps only now, 2007, revealing its prescience to we readers.MKOHUT 12:53, 17 June 2007 (PDT)

More than the unity of government and industry, yes. You also need the military - in fact the 'military-industrial complex'. Remember we're talking about Italian Fascism here. Antisemitism, for example, isn't (at least yet) an inevitable part of it. The essence of Fascism is 'corporatism', where state, military and industry are all run like one big corporation with the same people at the top. This is the symbolism of the 'fasces', the bunch of sticks or reeds that can't be broken because it all hangs together, and that is of course why Renzo says: "You saw how they broke apart...But we did not. We remained single, aimed, unbreakable."
Um vettore, si?
Um is a slurred form of un. Italian: A vector, yes? Actually, even though it is always written "un" in the Italian national standard (many dialects still exist), in front of words that start with "v" or "f", the "n" in "un" is sounded as a nasalized "m." (In front of words that start with "b" or "p" the "n" in "un" is simply pronounced like "m.")
Page 1072
in uniform all the time. Eagles . . . a prominent motif
eagles have been referred to often as predators in ATD.
A reference to Fascist insignia.
abrazo
Spanish: embrace.
teleferiche
Italian: cars suspended from cables, cableways.
Page 1073
agnolotti
Italian. A filled pasta similar to ravioli.
risotto
The renowned northern Italian rice dish.
tagliarini
Long, thin, narrow noodles.
Nebbiolo
A wine grape originating in northern Italy.
Carpano's for a punt e mes
Carpano's--a notable name in Turin--probably refers to a family bar or restaurant. Antonio Benedetto Carpano (1764–1815) was a Torinese distiller who, in 1786, invented vermouth--wine infused with herbs and and spices including wormwood (German Wermut). Punt e mess is a dark, brown, bitter vermouth originally produced by the Carpano distillery; the product earned its name (meaning "point and a half") because it was originally marketed during a boom in the stock market, and the Carpanos wanted to benefit from the association.
Page 1074
S.S. Persia had been torpedoed by a U-boat captain named Max Valentiner. . .
S.S Persia was a P & O passenger liner built in 1900. It was sunk on December 30, 1915 within five to tem minutes by a German U-Boat, U-38, off Crete with a loss of 343 of the 519 aboard. The commander of U-38 was Max Valentiner (1883-1949).
Eleanor Thornton
Like Dally (ATD 893–5), Eleanor Velasco Thornton was a sculptors' model. She was a passenger on the S. S. Persia and drowned when it was sunk. She inspired Charles Robinson Sykes (see Sykes, Charlie, in the ATD Alphabetical Index) to create the Rolls-Royce hood-ornament known as "The Spirit of Ecstasy."
...Reef, Stray and Ljubica returned to the U.S. pretending to be Italian immigrants.
Somebody dropped the ball here; obviously this should read "Reef, Yash and Ljubica." But Yashmeen had never before been in the United States.
Even Homer nods.
Ljubica was born outside, and had never been in, the U.S. !
If they pretending to be immigrants getting into the country first time, then they were NOT returning to the U.S. Because they are pretending, they could be returning. If they were actually immigrants, they would not be returning.
'Stray' is corrected to Yashmeen in the trade paper edition. And Reef is returning, with Yashmeen and Ljubica.
I, for Idiot
Another character assuming the character of an — a minor theme of AtD.
I, also, in 'the immigrants they were pretending to be'
...soon obliterated.
"The Obliterator"
A figure almost of legend, who causes unwelcome entries in your file to vanish without trace. But a member of the wiki was once friends with a bureaucrat, in a university registrar's office, who knew the "oblit" code. Like "The Obliterator," she used her power only for good.
Page 1075
Red Scare . . . Palmer raids
Public and media panic over the ideas of communists, other leftists and Anarchists led to a government crackdown on these elements in the years after the World War. Alexander M. Palmer, U.S. Attorney General under Woodrow Wilson, was a leading figure in the campaign. The Red Scare led more or less directly to the supremacy of the F.B.I., which some may view as "the control of the evil and moronic," and also to the founding of the American Civil Liberties Union.
Page 1076
Frank and Stray's daughter Ginger and the baby Plebecula
"Ginger" is sometimes a nickname for Virginia but also sometimes a substitute for "Red": a redheaded person. "Plebecula" can mean "the common people" . . . or a species of ant. Both children (Jesse too, could be) have political given names.
Kitsap Peninsula
Dissected peninsula in Puget Sound, Washington state. Not the northernmost point in the 48 states, but maybe the remotest.
Not far from Port Renfrew, B. C.
Could be a reference to the one-time anarchist community of Home, Washington, on the Kitsap Peninsula near Tacoma. Home, Washington But the community had been officially harassed out of existence by about 1915.
"Mr. Becker was at the Cour d'Alene back in the olden days. Guess I forgot to mention that."
In Pynchon's "Vineland", the action follows Jess' grand-daughter Frenesi, and great-granddaughter Prairie through some of the same kind of power-vs-preterite struggles that have haunted the family here in AtD. In "Vineland" Jess marries a woman named Eula Becker-- this may be Pynchon's way of tying up some strings for those of us who obsess over such details. "Vineland" dedicates a fair amount of time to discussions of light and shadow and the powers of silver emulsions in the golden age of Hollywood, too.
Page 1077
'Soir
For Bonsoir. French: good evening, or just hello.
It was Policarpe, an old acquaintance of Kit
Belgian anarchist, named for St. Polycarp; see annotation to page 527.
licking a few vitrines
The French phrase "leche vitrine" is the American equivalent of "window shopping" and literally means "window licking."
Lwów
A city in western Ukraine, see Wikipedia. The city's emblem shows a lion in front of a castle wall with 3 towers. It is strikingly reminiscent of the Tibetan seal on the cover of ATD. Recall that Venetia also claims the Lion (the winged Lion of St. Mark) as its emblem.
Galicia
If the complex history of this region—now partly in western Ukraine and partly in southern Poland—moves you, there's a pretty fair Wikipedia entry that also covers the next item. Lots of Americans trace their ancestry back to Galicia. See also the annotations to page 697.
West Ukraine Republic
Or West Ukrainian People's Republic, or West Ukrainian National Republic, existed between October 19,1918 and July 1919—long enough to adopt a flag.
E. Percy Movay
When the Inquisition compelled Galileo to recant his ideas about the celestial realm (he had blasphemed by reporting that Jupiter's moons orbit the planet and by reasoning that the Earth moves around the Sun too), he left the courtroom muttering, "And yet it does move." In Italian: Eppur si muove.
a fabled group of mathematicians in Lwów
The Lwów School of Mathematics led by Stefan Banach, a founder of functional analysis, who became a professor there in 1920. They often met at the famous Scottish Café.
Page 1078
Scottish Café
An extraordinarily talented group of mathematicians could be found in Lwow in the 1930s. Much of their best work was inspired by their meetings in the Scottish Café. It's a shame that Kit got there early.
Zermelo's Axiom Of Choice
The Axiom of Choice in set theory was formulated in 1904 by Ernst Zermelo (1871-1953), a German mathematician. It states that given any set of nonempty sets, there exists at least one set that contains exactly one element from each of the nonempty sets. The Axiom of Choice is related to the first of Hilbert's problems.
Here used to explain a variant of the Banach-Tarski paradox of 1924 which says in effect that it is possible to "carve up" a 3-dimensional solid unit ball into finitely many pieces and, using only rotation and translation, reassemble the pieces into two balls each with the same volume as the original. An infinitley re-assemblable universe?
the set of all sets that are not members of themselves
Quick, does it contain itself? Bertrand Russell's pursuit of this paradox forced a major realignment of axiomatic set theory.
Q.E.D.
Proofs in geometry and algebra, in fact, all mathematics, end with this statement. Q.E.D. = Quod Erat Demonstrandum = which was to be demonstrated. Some math professors after putting a difficult proof on the board and after writing QED jokingly translate it as "quite easily done."
Page 1079
Lemberg, Léopol, Lvov, Lviv and Lwów
Names applied to the city by its various rulers. Today it's Lviv, but its citizens are sometimes called Leopolitans.
Page 1080
Glowny Dworzec
Polish: Main Station.
the Iron Gate . . . the Defile of Kazan
Two historical sites along the Danube. The Iron Gate, 100 miles east of Belgrad, separated the Balkan and the Carpathian ranges. The Kazan Defile is further upstream near Belgrade where the Danube has dangerous currents and whirlpools.
There was music...attended to
Thelonius Monk's music was once described this way. Quotation, reference being sought.
Also reminds me of John Cage's idea of an 'anarchic harmony', where all individual sounds have the same value and importance (and require to be listened to by themselves, "each note insisted on being attended to"), and 'dissonant' as they may appear, form a 'harmony' of individual sounds, "non-obstructive and interpenetrating".
Page 1081
tarboosh
A fez.
the man in the tarboosh
So Lord Overlunch has been a secret operator in all this? He is apparently an agent of Shamballa.
the Ferrary sale
Philipp von Ferrary was a legendary stamp collector. Wishing to make his unequaled collection accessible to the public, on January 30, 1915 he willed it to the Postmuseum in Berlin, along with funds for maintenance, 30,000 guldens. But as a citizen of Austria living in France, World War I put him at risk. Leaving his several hundred albums in the Austrian embassy, he fled to Switzerland in 1917. He died soon after, and so did not see the dismantling of his life's work after the war. The French government confiscated Ferrary's collection, claiming it as a war reparation. The massive assemblage was auctioned off between 1921 and 1926, in 14 separate sales, realizing some 30 million francs. Many of the rare stamps of today proudly bear an "ex-Ferrary" in their provenance.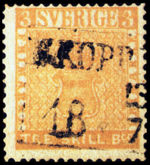 Swedish three-skilling yellow
A valuable
Swedish postage stamp
because it was issued, in 1855, printed on yellow colored paper (which was for the eight-skilling stamp) instead of the customary green. It is now estimated to be worth over US$2 million.
since the Spanish Lady passed through
The great influenza pandemic of 1918-20. The disease got the name "Spanish flu" because Spain, neutral in the World War and therefore not censoring its press, was the country where the spread of the illness was most openly reported.
Chez Rosalie
An Italian restaurant in Montparnasse, Paris.
Page 1082
Hesitation Waltz
One of many styles of waltz. In the 1910s a form called the "Hesitation Waltz" incorporated Hesitations and was danced to fast music. A Hesitation is basically a halt on the standing foot during the full waltz measure, with the moving foot suspended in the air or slowly dragged.
bandoneón
Musical instrument similar to an accordion, named for its inventor Heinrich Band, heavily used in Argentine tango music.
the taxis, battered veterans of the mythic Marne
World War, First Battle of the Marne, 1914. To shore up their Sixth Army the French commandeered 600 Paris taxicabs and used them to carry 6000 reserve troops to the front.
Page 1083
bals musettes
French: dance halls, with the music provided by an accordion band. cf page 891
Garçons de '71
Interesting note and pic here.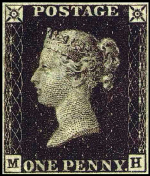 Penny Black
The Penny Black, the world's first official adhesive postage stamp, was issued by the United Kingdom of Great Britain and Ireland on 1 May 1840.
Page 1084
Puisieulx
One of the 17 Grand Cru (highest level of classification) of Champagne.
no longer a matter of gravity
Page 1085
Pugnax and Ksenija's Generations
Pugnax seems to be over 30 years old already, having been no longer a pup in 1893. p. 5. Long lived for a natural dog, not necessarily for a cartoon dog like Scooby Doo and Pugnax.
grace
Cf. what Lew Basnight "came to think of as grace". p. 42.

Gravity and Grace, a reference to Simone Weil.
Annotation Index
Part One:
The Light Over the Ranges
Part Two:
Iceland Spar

119-148, 149-170, 171-198, 199-218, 219-242, 243-272, 273-295, 296-317, 318-335, 336-357, 358-373, 374-396, 397-428

Part Three:
Bilocations

429-459, 460-488, 489-524, 525-556, 557-587, 588-614, 615-643, 644-677, 678-694

Part Four:
Against the Day

695-723, 724-747, 748-767, 768-791, 792-820, 821-848, 849-863, 864-891, 892-918, 919-945, 946-975, 976-999, 1000-1017, 1018-1039, 1040-1062

Part Five:
Rue du Départ

1063-1085