Spitalfields
Spitalfields Market in Victorian London: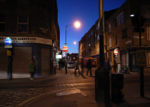 Here was to be seen the East End bird-fancier in all his glory, surrounded by his pets and his pals. This little Street in Shoreditch forms the common meeting-ground for buyer and seller, chopper and changer, and I can safely say that nowhere in London is there to be seen so interesting a concourse of people. They are all absorbed in birds and bird-life. If you stand at one end of the narrow street and cast your eyes towards the other extremity, the scene presented is one long line of commotion and bustle. You hear remarks such as these: "Don't desert the old firm, guvnor;" "Come, now, that's a deal ;" and "Wet the bargain, Bill."
One side of the crowded thoroughfare is entirely taken up with shops, in the windows of which are to be seen all manner of wicker and fancy cages—from the largest "breeder" to the tiniest "carrying cage "—and birds of every description dear to the fancy—linnets, mules, canaries, chaffinches, bullfinches, starlings, and "furriners." The cages are ranged in rows all round the wall.
Each vendor is busy shouting out invitations to the crowd to come and buy or "do a deal," which, in most cases, means a "swop," with a bit thrown in on one side or the other just to balance the bargain. The wares are not confined to the inside and outside of the shops. In the gutter and roadway are crates and boxes tenanted by fowls, pigeons, guinea-pigs,. and hedgehogs. [1]
Spitalfields is an area in Tower Hamlets, in the East End of London, near to Liverpool Street station and Brick Lane. Its name is a contraction of "hospital fields," in reference to the Priory and Hospital of St Mary Spital, which existed here in Medieval times. The area is home to the historic Old Spitalfields market.
Spitalfields lies at the heart of the East End, an area known for its spirit and strong sense of community. Through out its history, it has been an area of constant change.Following the edict of Nantes in 1685, the Huguenots fled France, bringing with them the skills of silk weaving and building the once grand houses in the conservation area around Fournier Street. Today's leather and textile trades are a continuation of this earlier tradition of weaving.
Spitalfields fell into decline after the 1820's and gained a reputation as cheap area in which to live, proving a magnet to numerous waves of immigrants.
The potato famine led to an influx of men from Ireland, bringing in workers to build the nearby docks. Jewish families found a haven from pogroms in Europe and many became traders. More recently, Bangladeshi settlers have contributed to the richness of life in the borough of Tower Hamlets, many of them establishing restaurants in and around Brick Lane. [2]
References
↑ Round London: Down East and Up West, by Montagu Williams Q.C., 1894, from VictorianLondon.org